It's time to earn the income you deserve!
The average developer makes $84,000 dollars a year!
No Degree Required!
let's answer all the questions you probably have right now.
How do I learn to code and become a developer?
To become a developer you need to learn the fundamentals of the web, HTML, CSS, Javascript, and at least one backend language like Python or PHP. Then you need to build at least 4 solid projects for your portfolio so when you apply to jobs you can stand out from the rest.
Why should I sign up with codingphase?
We focus on real world projects to make sure you have a portfolio that can get you hired ASAP
Step by step road map to guide you to become a developer
We teach the skills that are in demand
How many courses do I get?
Over 40 courses literally everything employers ask for
How long will it take me to learn everything?
It depends on how many hours you do per day. We've had students find Jobs in 2 months after starting to code
Look at some of our students that learned to code and got hired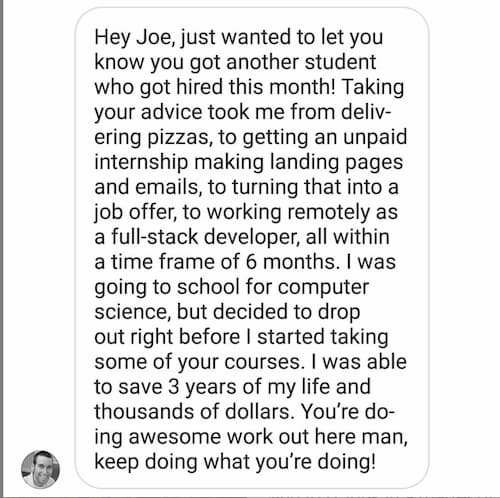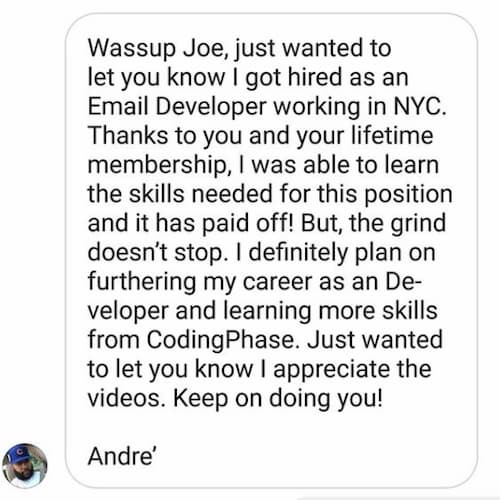 What companies have hired students from CodingPhase?
SONY, PAYPAL, FEDEX, NASA, UNIVERSAL MUSIC GROUP, AND MANY MORE
What's the difference between going to a coding bootcamp and CodingPhase?
Most bootcamps teach only one stack and usually it's either with ruby on rails or Node Js. At CodingPhase we teach you all the different stacks so no matter where you live or where you go you will have the biggest chance on landing a job. Also bootcamps charge more than $14,000 dollars for the same education that we teach you here for less than $20.
All Courses included with this membership
Advance CSS with Flexbox and CSS Grid

All Installations You will Need For Web Development

Build a Restaurant Web App

Build any site into a Wordpress Theme

Build Your Web Developer Portfolio

Crystal Lang Programming Language Master Course

CSS Animation for Developers

CSS Frameworks Ultimate Course

Debugging Like A Pro

E-commerce Site with Node Course

ESNEXT - ES6, ES7, ES8

Future-Proof Javascript

Git Like A Pro!

Gulp - Web Developer Starter Kit

How to deploy your site

How Web Developers Make Passive Income with React JS?

HTML Email Frameworks

Javascript Framework Hyperapp JS - Restaurant Course

JQuery - A Beginners Best Friend

Learn HTML and CSS by Building a Cool Social Network

Learn Mysql with Node JS

Learn ParcelJS - Web Application Bundler Master Course

Learn PHP 7 and Laravel Master course

Learn Polymer 3 Course - Code Like A Google Developer

Learn React by Building a Craigslist Clone

Learn Ruby - Backend Developer Master Course

Lets Build a Instagram Clone

Lets Build a Netflix Clone

Node - Javascript Fullstack Developer Bootcamp

Node and NPM Basics

Node JS Learn and Build Your Portfolio Course

Object Oriented Programming with Javascript Course

Phaser 3 -Ultimate Course Make Games with Javascript

PUG JS - Template Engine

Python3 - Bootcamp Course

React - Quick and Easy

React JS - Til Infinity Course

React Native - Mobile Applications With Javascript

Redux The Easy Way Course

Responsive HTML Emails Course

Ruby On Rails

SASS Like a Pro Course

Svelte - Front End Framework

Terminal For Developers

Text Editors

Upgrade to Yearly Plan Get Exclusive Content

Vagrant - Portable Development Environment Course

Web Developer Personal Brand and Portfolio
Original Price Over $3,000